Frase Review: the complete tool to improve content's ranking on Google, with Artificial Intelligence (AI).
"Content is King", you heard it for sure. In your SEO strategy, content is really important, along with all the other fundamental aspects such as technical SEO and backlinks.
However, in the eyes of Google, content has an ever increasing weight for a simple reason: the search engine must satisfy the user's search intent by returning the best answer.
The more useful, relevant and engaging a piece of content is, the better its chances of ranking higher on the search engine SERPs.
That's why I want to tell you about Frase, my favorite tool to optimize (but not only) my SEO content, through Artificial Intelligence (AI).
In fact, Frase is the tool around which all my daily work on SEO content revolves, and frankly, after using it for a few months now, I don't think I could live without it.
What is Frase.io?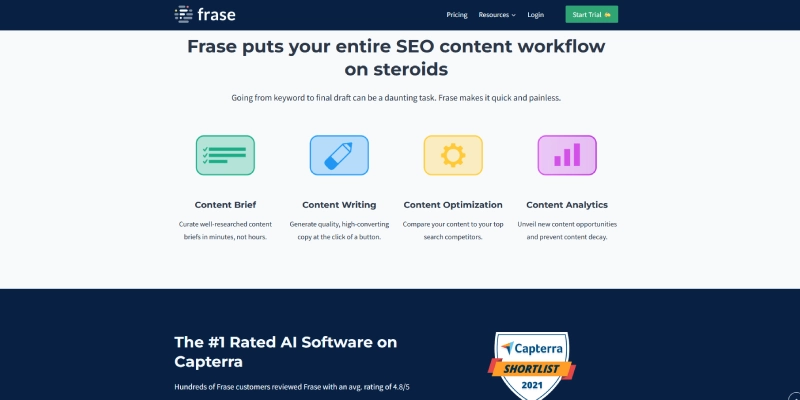 Frase is a complete tool that allows you to create and optimize SEO content to drastically improve its ranking in the SERPs of Google and other search engines.
It allows you to achieve the result through four fundamental steps:
Topic research and analysis of competitors in SERPs
Brief and Outline generation
Content optimization through NLP and LSI terms
Artificial intelligence text writing (AI Writer)
These four steps represent an A to Z path to deliver content that is relevant to the user's query and search intent.
My results with Frase.io
Before going any further, it seems only fair to give you a quick look at some of the results I have personally achieved after a few months of use.
In the image, you can see data from one of my sites that was born a few months ago, where you can see the traffic steadily increasing month after month.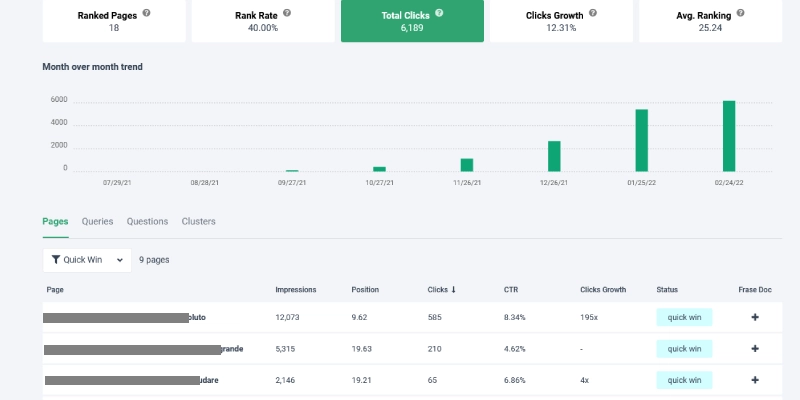 Topic research and competitor analysis in Google SERPs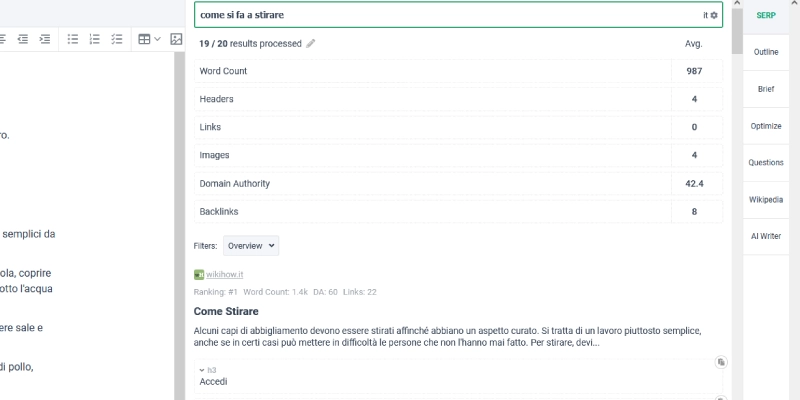 This is the first step in creating SEO-optimised content, whether it is a blog article, a landing page or an e-commerce product description.
To be precise, the first step is keyword research, but this is something Frase can't do. There are dedicated and very good tools for finding easy-to-rank long-tail keywords, for example, WriterZen or LowFruits.
Once you find the main keyword you want to rank for, it is a good idea to go directly to Google and see what results come up in the SERPs when you type in that particular query.
You should analyze the whole first page of Google, the first 10 or 20 results, open them in a new window, see how the contents are structured, the H1s, the H2s, the H3s, how long they are, how many images they have and so on..
Hard work…isn't it?
With Frase, you can do all this very easily and quickly. When you create a new document based on your query, Frase extracts the top 20 results from the SERP and presents them in a detailed and easily searchable way.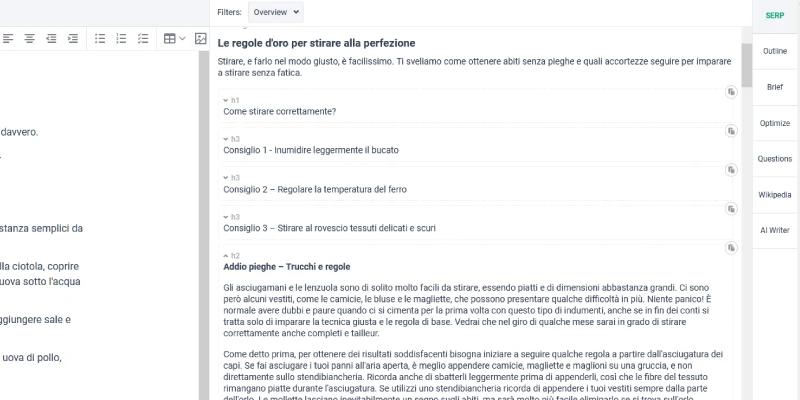 You have an overview of the average number of words used by your competitors, the number of headers, images, Domain Authority.
You have all the content in order, grouped by H1, H2 and H3, which can be easily expanded to read the relevant paragraphs.
This feature alone already can save you a lot of time, first of all to get access to articles from your competitors and understand how they have structured their content. At the same time to do your own research on the topic if you don't already know it in detail.
A useful feature if you are a blogger, SEO copywriter or affiliate marketer and want to analyze the competition for your keyword well, to understand how to create content that has a good chance of ranking.
Brief and Outline creation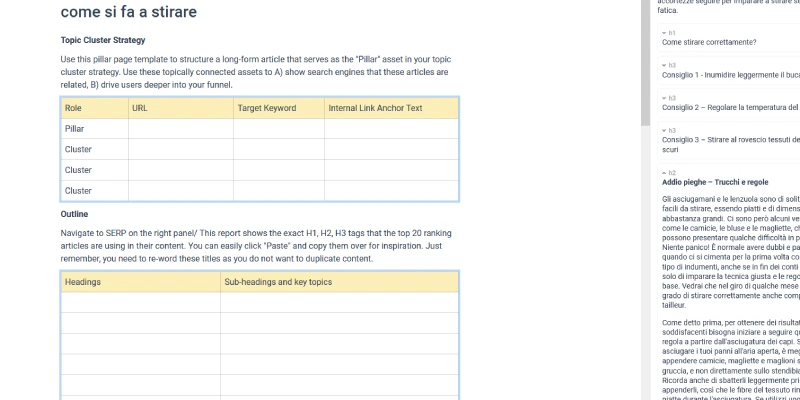 Before writing an article, it would be a good idea to create an outline of how it is to be structured, i.e., a Brief, and an Outline, i.e., table of contents.
Even if you are not the one writing the content and perhaps use a freelance ghostwriter or outside agency, you can create a detailed Outline to send to the writer to get the perfect article for your needs.
With Frase this becomes extremely easy because you have three different ways to proceed:
1. Use a Preset Template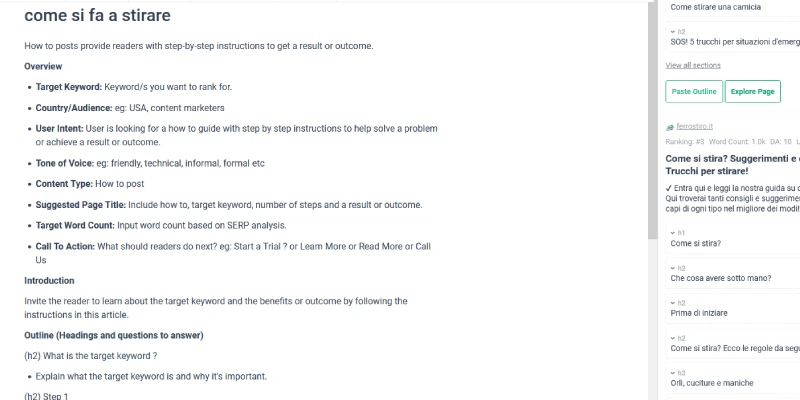 If you don't know where to start, you can use one of several ready-made Templates in Frase. These are article outlines that you can import into the document and then have to fill in with data about the content you want to create.
For example, with the Listicle Content Brief you will have an outline for writing a Listicle-style article, or with the How-To Content Brief, you will have the structure for a classic "how-to" article. There is one for every need.
2. Create Brief and Outline Manually
You can create your structure manually by analyzing the results that are already placed in SERPs, then take inspiration from your competitors' content, their titles, texts, etc.
With just one click, you can copy/paste the elements you are interested in directly into your document and then process them.
Be sure never to copy others' content, but only take it as inspiration or reference to create your own article.
In addition to being ethically wrong, you will not get any advantage, indeed, you could be penalized by Google for plagiarized content and in any case you would not give the user any valuable content.
Your goal must be to create content that is better and more relevant than all the others.
3. Generating an Outline automatically with AI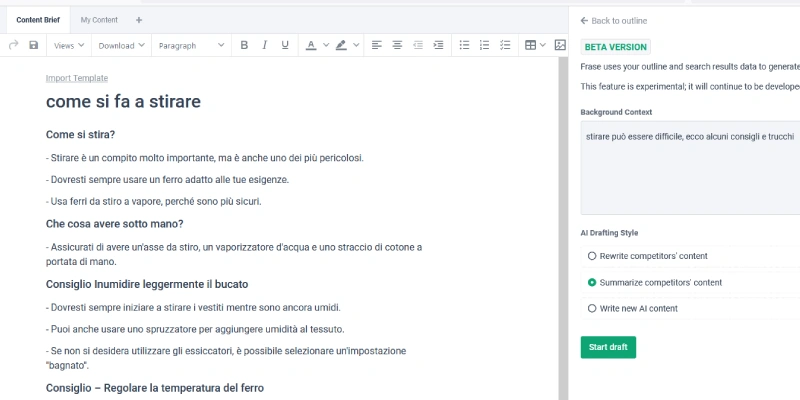 This is a Frase advanced feature, and you can only use it by activating the SEO Add-On, an additional option that gives you access to the entire AI Copywriting part of Frase.
I'll tell you about the whole AI part later, but know that you can generate an entire draft of your article and an Outline almost completely automatically.
You only have to choose the H2s and H3s of the competitors already in SERPs that you want to include in your article. Then decide whether to use AI to summarize the competitors' content, rewrite their content, or generate new content from those headers.
It's hard to explain in words exactly how it works, which is why I recommend that you also watch my Frase video review, found at the bottom of this article.
In a nutshell, you will end up within seconds with a few hundred words already written in your document, which you will then obviously have to edit, check, correct, make additions and insights, and set your own writing tone.
It is a great way to get a good lead on an article or any content, leveraging the information that Google is already rewarding in SERPs.
SERP Score and content optimization with NLP and LSI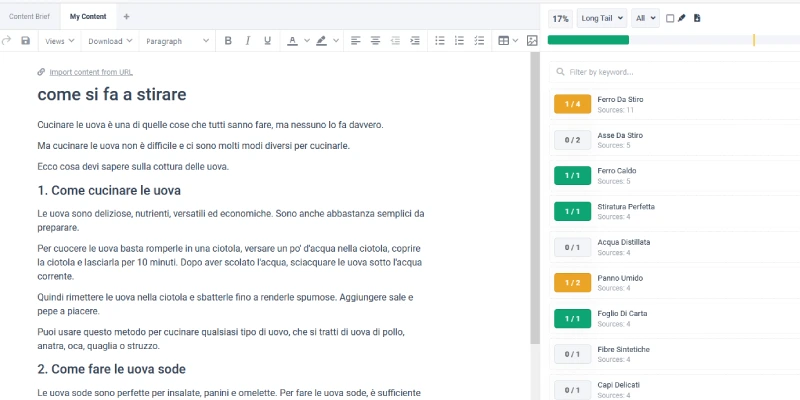 Let's get into the nitty-gritty of what is the key feature of Frase.io, which is the ability to optimize your content to make it more relevant in SERPs and drastically improve its ranking
When Frase analyzes the top 20 results on Google, through its algorithm it also extracts a number of NLP and LSI terms with a careful selection of the most relevant ones.
To be clear:
NLP stands for Natural Language Processing
LSI stands for Latent Semantic Indexing
These are words, which we might also call keywords, although they are actually more of the "entities" that recur within all of the top 20 results in SERP
The basic concept is this: if you talk about a topic X in your content, while also including the terms Y and Z, then X is more relevant to the search query.
For example, if you talk about a garden, you will also have to talk about lawn, grass, house, etc. in your article.
It seems obvious and comes naturally to do so in the case of the example, but dozens of these words or sometimes small phrases are extrapolated.
Without a tool like this, it would be impossible to figure out which ones competitors use the most, how often they use them, and in what context.
This is critical to make your content relevant to the user's search intent and thus make Google see it as the best answer to return in SERP.
In the right column of Frase is the whole list of these terms, broken down by:
Long Tail: very specific keywords, often formed by at least 2 or 3 words
Top Topics: single words representing the main topics to be covered
Clusters: groups of terms with the same meaning, but perhaps used in different contexts
Titles: they refer purely to the content title H1
Headers: the most frequently used terms in paragraph headings H2 and H3
SERP Score: a visual representation of your SERP score compared to your competitors
At the top you have the calculation of your SERP Score, which is your relevance score relative to your competitors; it ranges from 0% to 100%.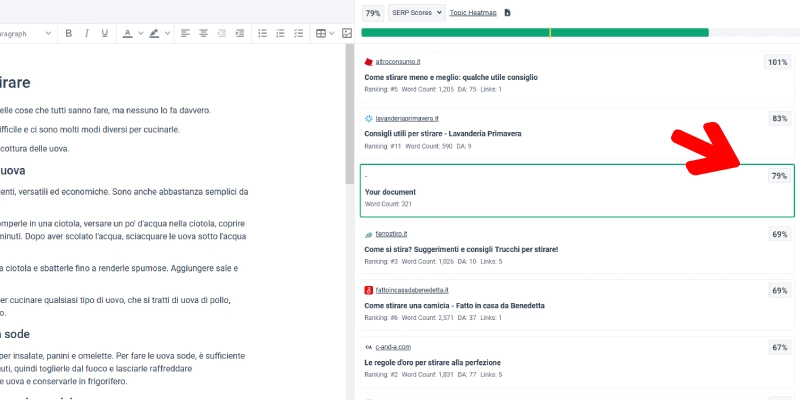 Each time you use one of the recommended entities in your content, the score increases.
The goal would of course be to reach 100 percent, although this is not always possible, so as not to run into keyword stuffing situations. Already exceeding the average of competitors, indicated with a yellow marker, will put your article in a very good position compared to others.
Is this enough to guarantee you will get on the first page of Google? Obviously not.
This is just one of many factors that Google analyzes for ranking, but it remains one of the most important.
Especially if you can identify a long-tail, low-competition keyword, adding this optimization will help you get to the top positions quickly and without the need for backlinks.
On the other hand, if you choose a more competitive keyword, it will probably take longer and some more effort from a link building perspective.
What I can tell you is that I am using Frase.io to create content for a site that was born a few months ago, and I already have several articles ranked on the first page. Some in Top 3 and some with Rich Snippets, without ever having done any link building.
If you want to understand even better how the optimization phase works, watch the video at the bottom of the article, where you can see the interface and all the different options.
AI Writer: your writing assistant with Artificial Intelligence
Frase is also an AI Writer, meaning it is able to generate short-form and long-form texts with Artificial Intelligence, similar to other software such as Jasper (formerly Jarvis) or ClosersCopy, just to name a couple of examples.
In order to use this feature, you nedd the PRO Add-On, which costs $35 per month. It is not essential for using Frase in its other components (SERP analysis, competitors, optimization), so you could use an external AI Writer if you already have one.
My advice, however, is to activate it if you have the possibility, because this allows you to have an "all-in-one" tool and make your work smoother and faster.
What can you do with AI within Frase?
Write For Me: Artificial intelligence writes for you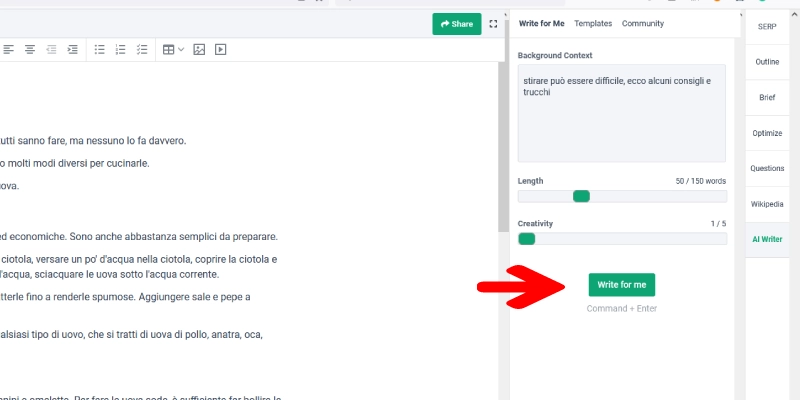 It is definitely the easiest mode to use, in this case AI uses as the context:
The title of your document
The search query
The context section on the right where you can enter relevant information about the topic you want to write about
All the contents of the document preceding the cursor position
Frase AI is able to start a new paragraph or sentence, trying to maintain context, or to continue a sentence left unfinished, concluding it in the best way.
You can choose the length of the output in word count and the level of creativity from 1 to 5.
The result is not always as desired, but the same thing happens with all AI Writers, even the most famous ones.
The advantage is that with the PRO Add-On you have no character or word limit, so you can regenerate the output as many times as you want until you get what you want.
It still holds true that when using an Artificial Intelligence, you should always fact-check and correct any grammatical errors.
AI is able to recognize patterns, in fact, I might say it is one of the main abilities of this type of algorithm. So if, for example, you start writing a list, the AI will tend to go on completing the list.
If you write a question, the AI will tend to write more questions unless you give direction to the algorithm, perhaps by starting an answer yourself and letting the AI continue.
Write About This: expand a paragraph with AI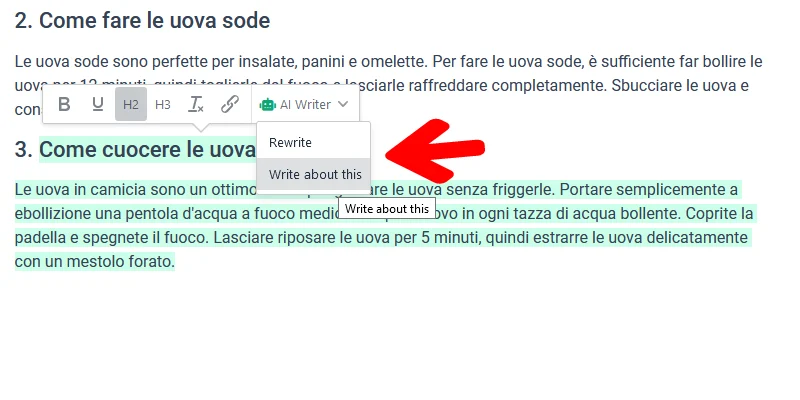 This is another way to use AI in Frase, which is to simply select a title, sentence, or paragraph with the mouse and have the algorithm generate output using the selected part as context.
The result is not always optimal in this case; it depends a lot on how precise the context itself is and how well the AI has been trained on that specific topic.
I would add that this function is much more accurate using the English language.
Rewrite: rephrase a text with different words
A very useful feature if you want to rewrite, with different words but keeping the same meaning, a sentence or an entire paragraph.
You just select what you want to paraphrase and select the appropriate option. Frase generates 3 variations of the original, rewriting sentence by sentence.
How can it serve you?
For example, if you are not satisfied with the way you wrote something and want to have a variation, perhaps more creative. Or if you want to rewrite the paragraph of one of the competitors, keeping the meaning but with a high level of uniqueness.
The latter practice is not the best because you're going to copy other people's content anyway, but in some cases it can come in handy if used ethically.
You can also use Rewrite and Summarize directly from the SERP section.
Below the H2s, H3s and competitor paragraphs, you will find the appropriate buttons that allow you precisely to rewrite or summarize the different content of your competitors in SERPs.
Templates: get specific outputs for each individual need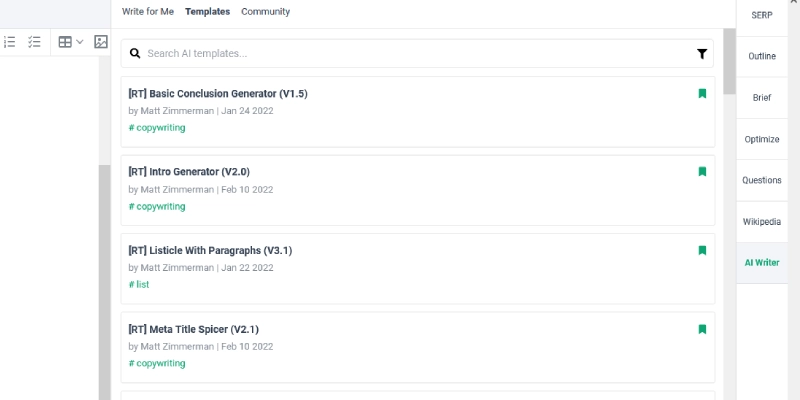 If you want to generate outputs from AI that are specific and optimized to a specific need, the use of Templates is definitely the best solution.
In Frase you have access to three types of Templates:
Basic Templates: these are the default ones already included in the platform.
Community Templates: made by other community users and shared for free with everyone, some are even open source, so you can also see how they were trained.
Custom Templates: the ones that you can create by yourself, by training AI with some of your own specific examples, which will generate output tailored to you.
Templates are undoubtedly one of the strengths of this tool, and not all AI Writers give you the ability to build and customize them.
Some community Templates are advanced and absolutely fantastic, very complex and able to generate from very short outputs such as headlines, up to long and complex texts, even up to 500 words, so almost whole articles.
You can use Templates to generate, for example:
A creative title
A blog introduction
An Outline
The answer to a question
A list (of questions, products, ideas, features, etc.).
A meta description
A rich snippet
An entire paragraph
A text based on PAS (problem, agitate, solution)
A text based on AIDA (attention, interest, desire, action)
I could go on and on, because in fact there is no limit. You can turn bullet points into a paragraph or vice versa, you can generate metaphors, analogies and more.
AI Draft: generates an Outline and draft automatically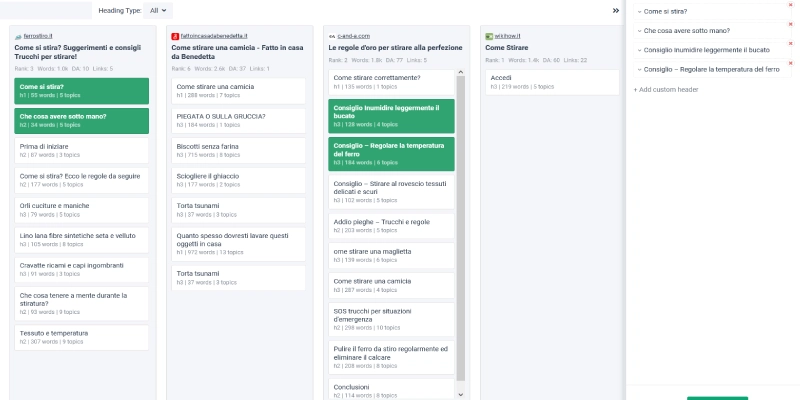 Another way you can leverage Artificial Intelligence with Frase.io is the ability to create within seconds an Outline or even the entire draft of an article
You just analyze the SERP with the appropriate option, select the H2s and H3s that you think would be useful for writing your content, and decide how to generate the draft; you have three options:
Rewrite competitors' content: you can rewrite the competitors' content with AI and use it in your draft.
Summarize competitors' content: you can summarize the content of the competitors and get bullet points with the main concepts.
Write new AI content: you can have AI generate new content from the H2 and H3 you have selected.
This is an alternative way to get a great initial outline to then create good SERP-relevant content, another strategy made quick and easy with AI.
I showed this feature in my Frase video review, which you can find at the bottom of this article or on my YouTube channel.
Frase review: plans and pricing
Frase is a really comprehensive and effective tool, and of course it has a cost, which, however, is not even exaggerated when you consider all that it can do.
First, you can try Frase (5 days for $1) and see if it's right for you, just click the button below.
Three different monthly plans are available (with 15% discount if you pay annually):
Solo ($14.99/mo): The perfect plan if you're just starting out or if you want to test Frase while spending as little as possible. You can create/optimize up to 4 documents every month. You can also generate up to 4,000 words with AI every single month.
Basic ($44.99/month): With this plan, you can create up to 30 documents per month. Again, you have 4,000 words to play with AI, to test it and decide whether to add the Pro Add-On.
Team (114,99$/mese): perfect for teams that produce a lot of content, in this case the number of documents is unlimited, and you can give 3 team members access to the platform at the same time, with the possibility of adding more team seats. 4,000 AI words included!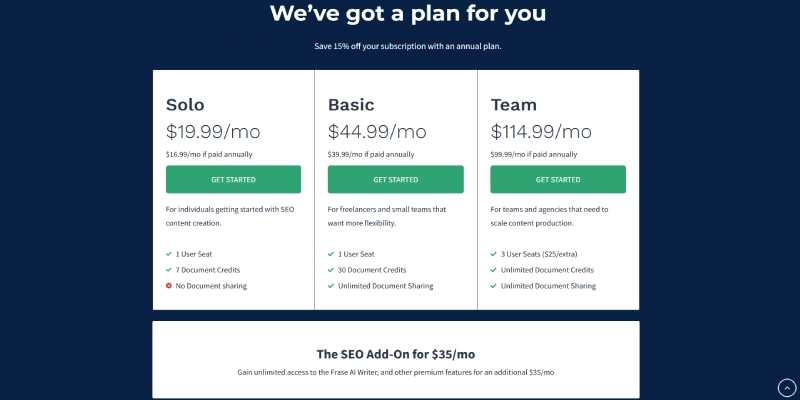 With these 3 plans you have access to all the SERP analysis part, competitor analysis, topic research, the Analytics part and the content optimization part.
However, you have very limited access to AI tools.
Pro Add-On: Get access to Artificial Intelligence and premium features
This add-on costs $35 per month and gives you access to all the AI Writer features I mentioned just above, as well as some other premium features that relate to SEO.
As I have already written, it is not binding in the use of Frase, but by activating it you will have a really comprehensive tool from A to Z for the creation and SEO optimization of your content.
Also remember that you will not have any word or character limits when using the AI and considering this the price becomes very affordable compared to other similar tools, which instead impose monthly limits at even higher prices.
Frase Video Review
If you want to see better how Frase.io works in detail, you can watch my video review. This is an overview, and I will certainly make in-depth videos dedicated to the various aspects of the platform.
Frase Review: conclusion
It's difficult in one article to talk in depth about Frase, but I think I have at least given you the essential information to understand what you can do with this tool.
In brief, if you are a blogger and you really want your content to rank, if you are an SEO and you want to prove to yourself and others that your content gets on the first page of Google, if you are structured and have a writing team, Frase is the most complete tool you can find foroptimization of content creation strategies!
Please bookmark my blog and subscribe to the Digital Tool Case YouTube channel, where you will find video reviews and tutorials on this and other Blogging, SEO, and Affiliate Marketing tools.