Are you struggling to find the perfect long-tail keywords to rank your blog post on Google's first page?
Today you are lucky, because I am about to introduce you to a Keyword Research tool born recently and that I'm sure you will appreciate.
As you surely know, keyword research is a fundamental part of a good SEO strategy If you write content without first choosing the main keyword, you have little hope of ranking on the first page of Google, thus driving traffic to your site.
I know, there are a lot of keyword research tools, the free ones however have the flaw of returning limited or poorly detailed data, and the paid ones are usually very expensive and often complicated to use.
I want to tell you about LowFruits because it's fundamentally different from the others, in many aspects, also it's perfect if you're site is still new and with low authority, or a site in a very specific niche.
SPOILER ALERT: LowFruits is also cheaper than the other keyword research tools because you don't need a monthly subscription! Plus, I can give you 10% extra credits …
What is LowFruits
LowFruits is a Keyword Research tool that focuses primarily on long-tail keywords.
The name is not accidental, in fact, in English, they are often also referred to as "low hanging fruits".
These keywords usually have low competition because they are more specific, and they also have a lower search volume, but with double benefit.
First of all, the conversion rate is on average higher than short-tail keywords, which is very important for any business.
Secondly, they are much easier to rank on the first page and the LowFruits algorithm focuses on this aspect, unlike all the others.
LowFruits VS other keyword research tools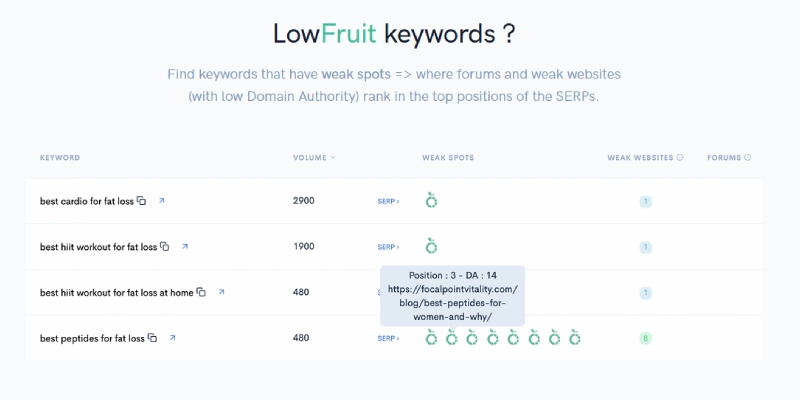 All professional SEO tools have an algorithm that calculates the Keyword Difficulty, or how easy it is to rank a keyword in the SERP compared to your competitors.
The "problem" is that practically everyone gives a lot of weight to the number of backlinks pointing to the article or page related to that keyword.
If you have a site that is already mature and well-positioned, this way of discovering potentially good keywords can work, but if your site is new or still not very authoritative, the situation changes.
This is where LowFruits comes in!
Its algorithm analyzes the SERPs based on your query and identifies those with more "weak spots".
These weak spots are nothing more than the contents positioned on the first page, but very easy to outrank for several reasons, including:
have a low Domain Authority (DA)
have short or not very relevant content
they are third-level domain
are posts related to Forum or Social (eg. Quora, Reddit)
There are many SERPs full of positions where your article could easily and quickly rank, but without a tool like this, you would have to analyze them by hand, with a huge waste of time and energy.
How LowFruits works
The concept is simple and can be summarized in a few steps, I have prepared a detailed example to show you exactly how LowFruits works:
1. Enter your seed keyword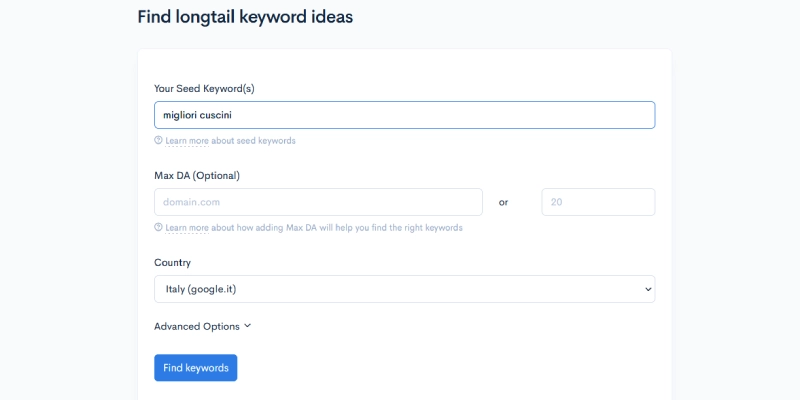 Once you have logged into the Dashboard and clicked on the "Get Keyword Ideas" button you will find yourself on this screen:
As you can see, just enter a few data, the seed keyword is the main keyword, for example, "best pillows".
Here you don't have to insert a long-tail keyword, otherwise, you will not have satisfactory results.
2. Apply the filters on Domain Authority and Country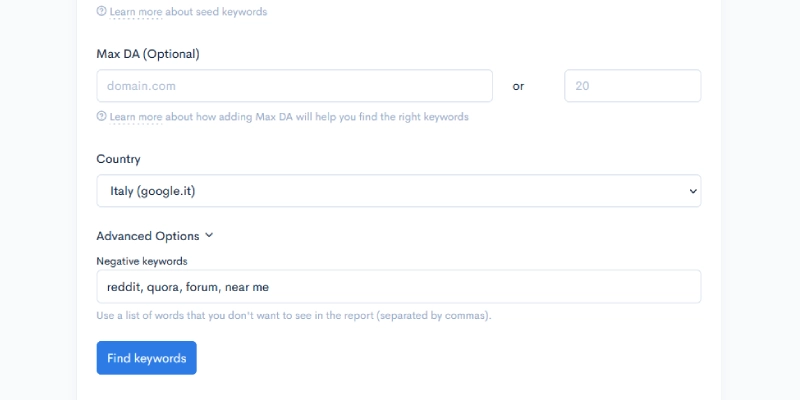 Choosing a maximum Domain Authority (DA) is optional, but can help you find better keywords.
For example, if you choose a value of 20, LowFruits will search for all keywords where the DA is less than 20 and which are positioned on the first page of the SERP.
ATTENTION! If your site also has a DA less than 20 (for example if it's new) it's better to leave this field blank.
You can also enter your domain in a dedicated area of LowFruits and keep track of your DA value.
Finally, choose which country you want to search on, in this example it is Italy.
In the advanced options, you can enter even negative keywords, or terms that you do not want to appear in the list of potential keywords.
Read Also: Jasper AI (formerly Jarvis AI): How to do copywriting with Artificial Intelligence
3. Get a list of potential long-tail keywords
First of all, you can choose whether to view all the ideas found (recommended) or have a list of high-intent keywords right away (you can always do it later).
This is the starting list with all the long-tails found by the software and you can filter based on different parameters, then analyze the ones you find more interesting.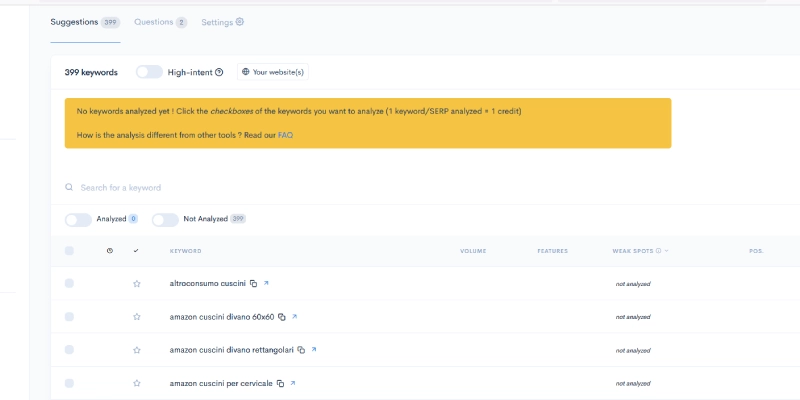 The nice thing is that you haven't used up any credit up to now! Paid credits are only used when you analyze keywords.
Thanks to this screen you already have a lot of information to discover several new ideas for writing other related articles on your blog.
4. Select and analyze the ones you find most interesting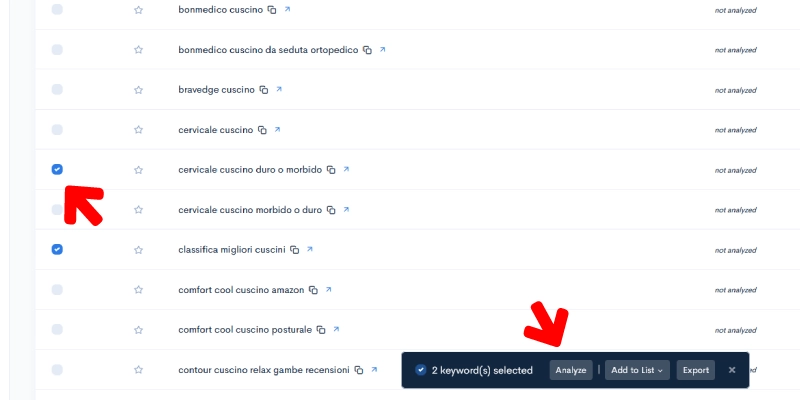 You can select as many keywords as you want by clicking on the relevant box in the first column on the left.
You can add them to a list, to be analyzed later, or you can analyze them directly by clicking on the button that appears below.
5. Finally, find the absolute best ones to rank on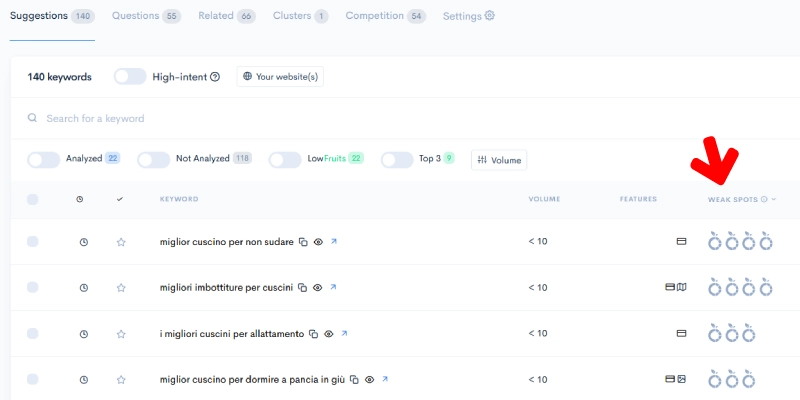 Once analyzed, you will have a detailed report with the ability to filter the results based on many parameters.
In the Weak Spots column, you have a graphical and very intuitive view of how many weak positions there are in the SERP for each keyword.
By hovering it with your mouse you can see in detail what is the position that you could easily conquer by outranking your competitor, what is the reference site, and if it is an e-commerce, an affiliate article, or an informational one.
Of course, the best keywords are those with the highest number of weak spots in the SERP.
Among the different filters, some are really interesting:
High-Intent: Filters by keywords with high action intent (eg. "best", "review", "free" etc.) or a sales-oriented search intent
LowFruits: Filters by keywords with weak spots in the top 10 results
Top 3: Filters by keywords with weak spots in the first 3 results (best overall)
Volume: Filters by monthly search volume
Furthermore, the results are also grouped by different types: Questions, Related Searches, Clusters, and Competitors.
6. Import your keyword lists
If you prefer you can also import lists of keywords that you have exported from other tools and analyze them within LowFruits, filtering them in all possible ways and also based on whether or not they are extrapolated from People Also Ask.
Read Also: ClosersCopy: Real Review, Write your Copy with Artificial Intelligence
LowFruits: Plans, Prices, and Credits + 10% Bonus
This SEO tool also stands out from the others for its cost which, depending on the use you make of it, could be very advantageous.
LowFruits can be used both by purchasing credits and through a monthly subscription.
Credits System (pay as you go)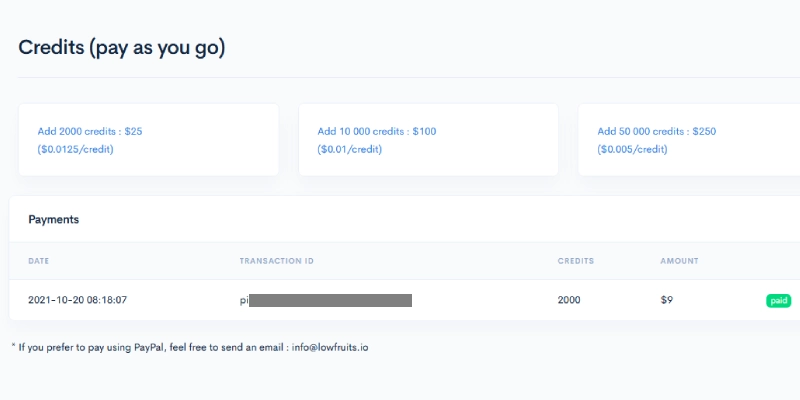 It's great because you don't need any monthly subscription, so you don't have to worry if you only use it occasionally.
You can purchase different credit packs with no expiration, for example:
2.000 Credits for 25$ (0,0125$ per keyword)
10.000 Credits for 100$ (0,010$ per keyword)
50.000 Credits for 250$ (0,005$ per keyword)
In addition, in some periods of the year, there may be promotions, as you can see in the image, some time ago I managed to buy 2000 credits for only 9$.
It's the system that I am using myself, it gives me the peace of mind to carry out my research when I want or when I need it, without worrying about having to pay every month even if I use it only a few times.
Excellent solution if you are at the beginning of your SEO or Blogging journey.
If you decide to purchase a package through digitaltoolcase.com you will also have a +10% Credits bonus, so you have an further advantage!
Monthly or annual subscription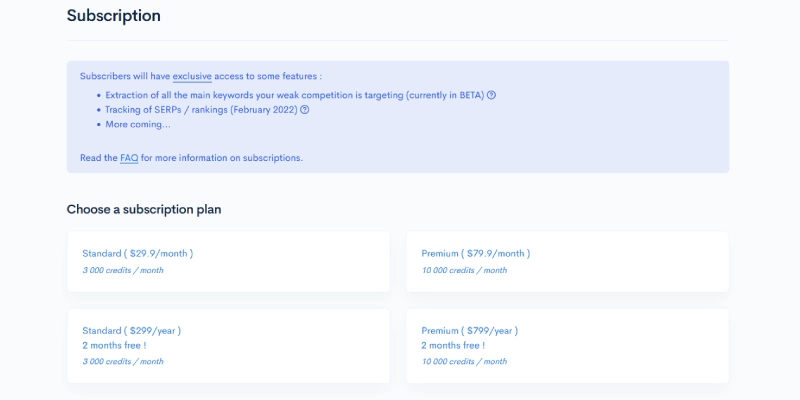 If you already have an authority website and you want to analyze several long-tail keywords every month, surely you should activate a subscription among those available:
Standard (3,000 Credits/month) for 29.9$/month or 299$/year (2 free months)
Premium (10,000 Credits/month) for 79.9$/month or 799$/year (2 free months)
The subscription plans also give you access to additional exclusive features:
Extract the main keywords that your weaker competitors are targeting (in BETA)
SERPs ranking's tracking of your keywords (from February 2022)
More features coming soon …
LowFruits video review
If you want to learn more about how LowFruits works, here is my video review.
Conclusion
LowFruits is still new and has significant potential for the future, but as you've seen it's already a great tool for improving your SEO rankings, finding the best long-tail keywords, and capturing low-competitive organic traffic.
It's one of the tools that I personally use for my keyword research and to create content that allowed me, in combination with other tools, to start a new blog very quickly, increasing my traffic volume in a few weeks.
Please bookmark my blog and subscribe to the Digital Tool Case YouTube channel, where you will find video reviews and tutorials on this and other Blogging, SEO, and Affiliate Marketing tools.