Scalenut and Frase are two tools designed to assist you in generating top-notch content that achieves favorable rankings in search engine result pages (SERPs).
However, determining the most suitable tool and evaluating its cost-effectiveness can be challenging. Based on my experience using both platforms, I would like to share my insights regarding the comparison between Scalenut vs Frase. Let's begin!
Scalenut Overview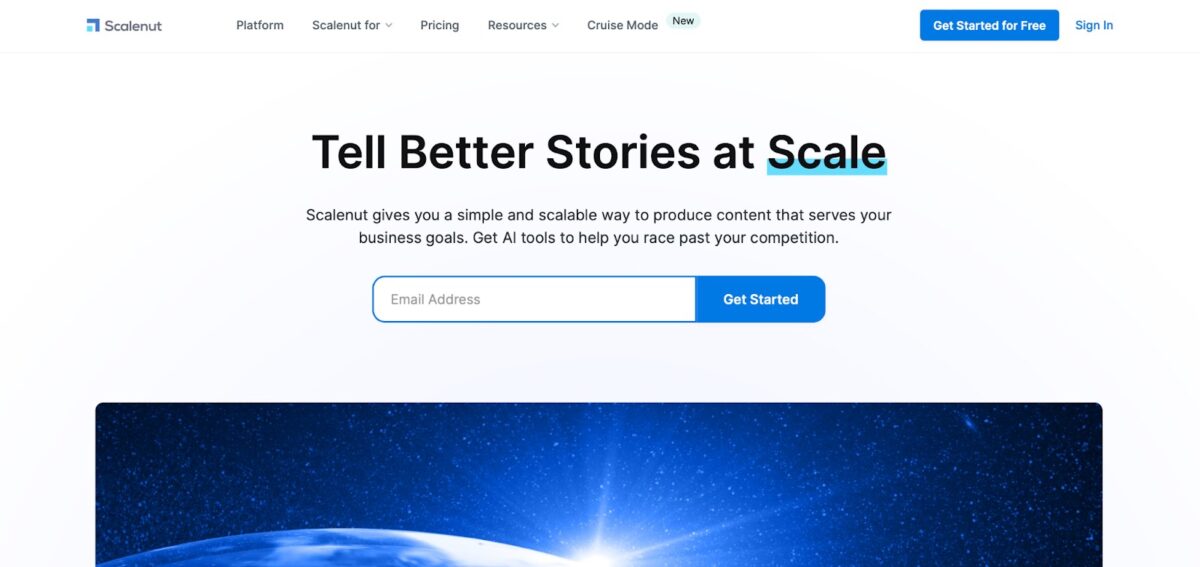 Scalenut is a comprehensive AI-powered SEO and Content Marketing Platform. It consolidates all stages of the content lifecycle into a single location, encompassing planning, writing, research, and optimization.
This tool effectively fulfills all your content requirements. Scalenut presented me with a user-friendly resolution for my content marketing strategy, featuring an inclusive dashboard, an expansive collection of over 40 pre-designed marketing assets, and a collaborative interface.
Furthermore, I had the opportunity to explore the tool through a complimentary 7-day trial, which allowed me to use all available features.
Key Features
Cruise Mode

With Cruise Mode, an AI-powered long-form SEO blog writer, you can generate SEO-optimized blogs within just 5 minutes. All I had to do was simply input my title, outline, and keyword, and let the AI engine handle the rest. In my experience, this feature streamlines the process of creating compelling initial drafts for your content while ensuring they are optimized for search engines.
Content Optimizer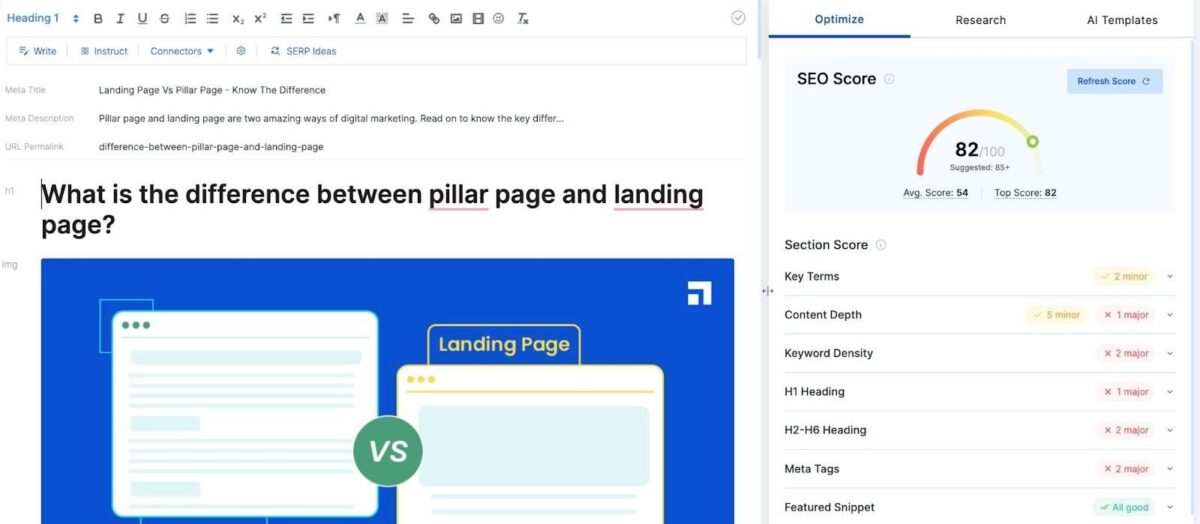 The Content Optimizer is a robust tool designed to assist you in creating outstanding content that is fully optimized for SEO. I used the features like meta tags, outbound linking, and keyword density, and was able to produce high-quality content that ranked well and effectively engaged my target audience.
AI Templates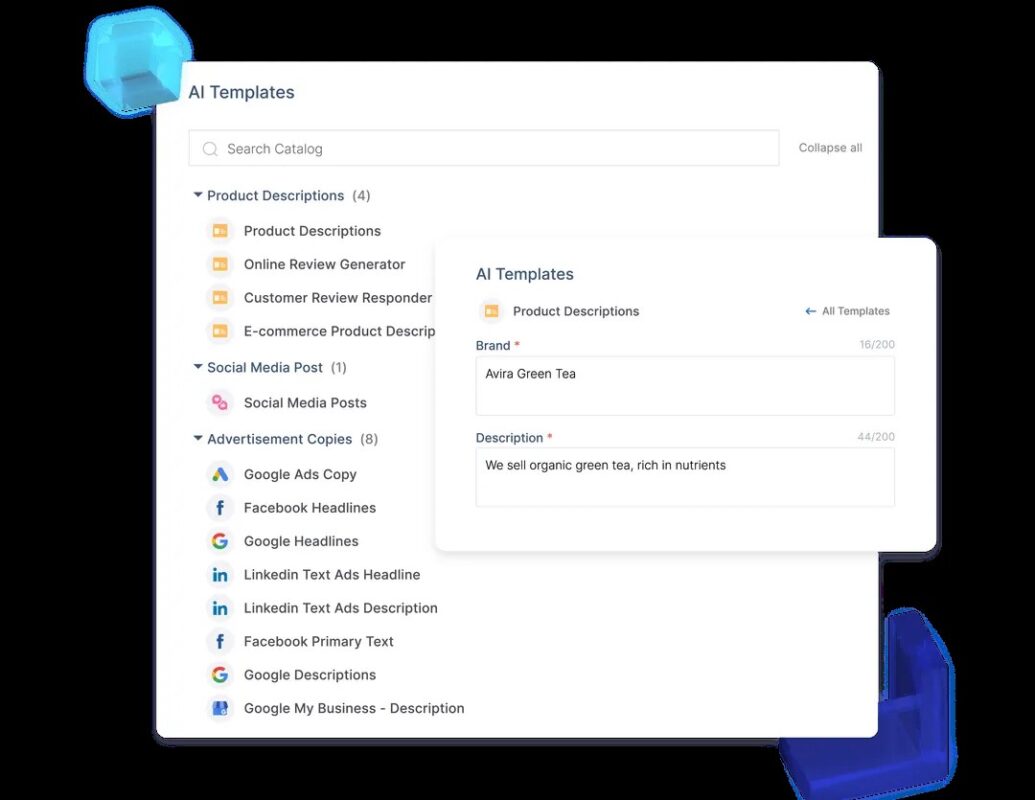 Scalenut offers more than 40 AI-powered templates that helped me create different kinds of written content. The AI templates aid in creating a marketing copy that drives action, saves time and effort, and delivers high-quality content that resonates with your target audience. The templates cover various marketing formats, including landing pages, email campaigns, and social media posts.
SEO Topic Research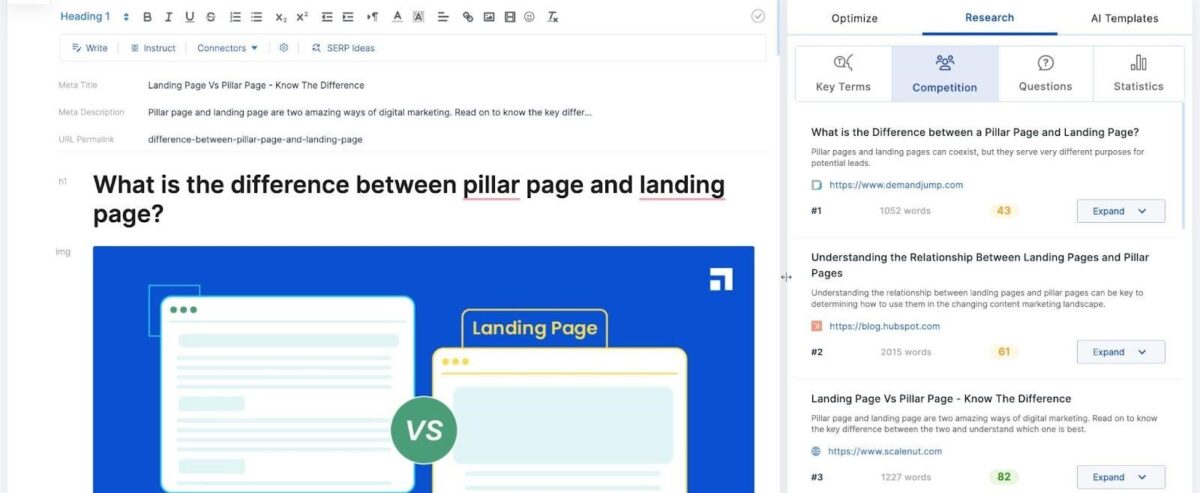 This tool provides comprehensive insights into the top-ranking URLs for your targeted keywords by extensively searching the search engine. The insights include a competition overview, important citations, NLP key terms, and more, significantly reducing research time.
Keyword Planner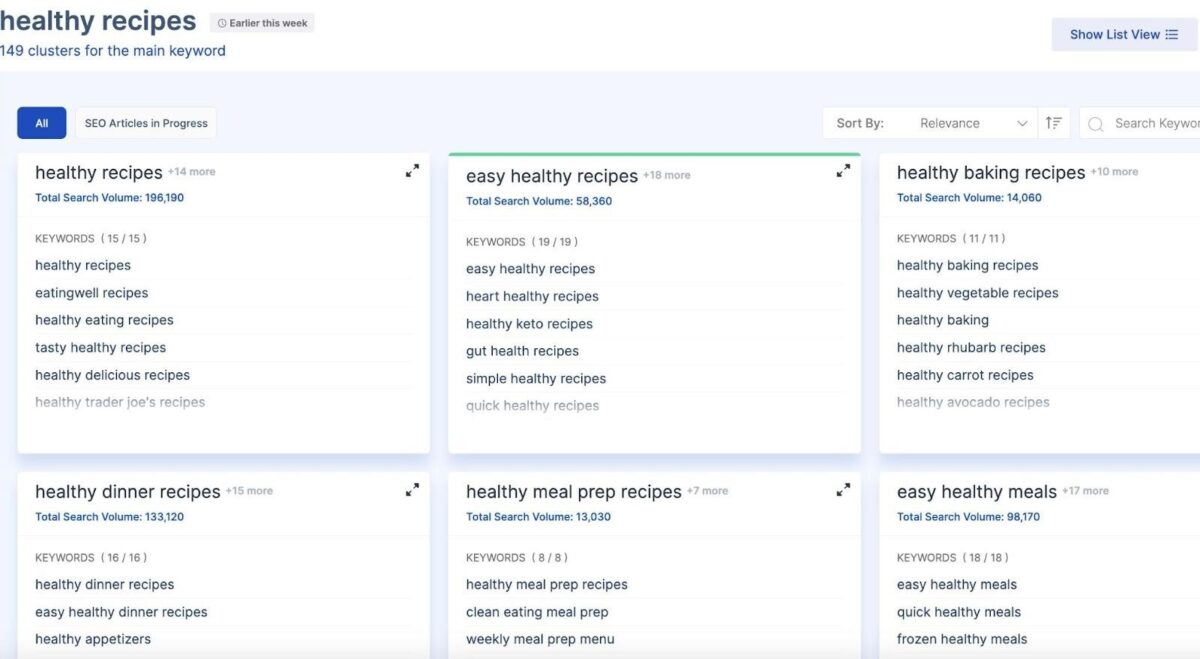 The Keyword Planner tool in Scalenut shared valuable insights about the keyword clusters that should be targeted, based on my primary keyword. Using this tool can help one optimize their SEO strategies so that they align with your desired content and marketing approach.
Scalenut Pros
Scalenut uses AI to enable effective management and optimization of content across multiple platforms.
Its feature-rich content editor provides extensive options for formatting and optimizing your text, ensuring high-quality output.
Scalenut understands the diverse needs of its users and provides multiple pricing plans to cater to different requirements. Additionally, you have the opportunity to explore the tool through a free 7-day trial before making any commitments.
For seamless accessibility, Scalenut offers a convenient Chrome extension, allowing users to effortlessly utilize its functionalities.
Scalenut Pricing
These are the different pricing plans that Scalenut offers.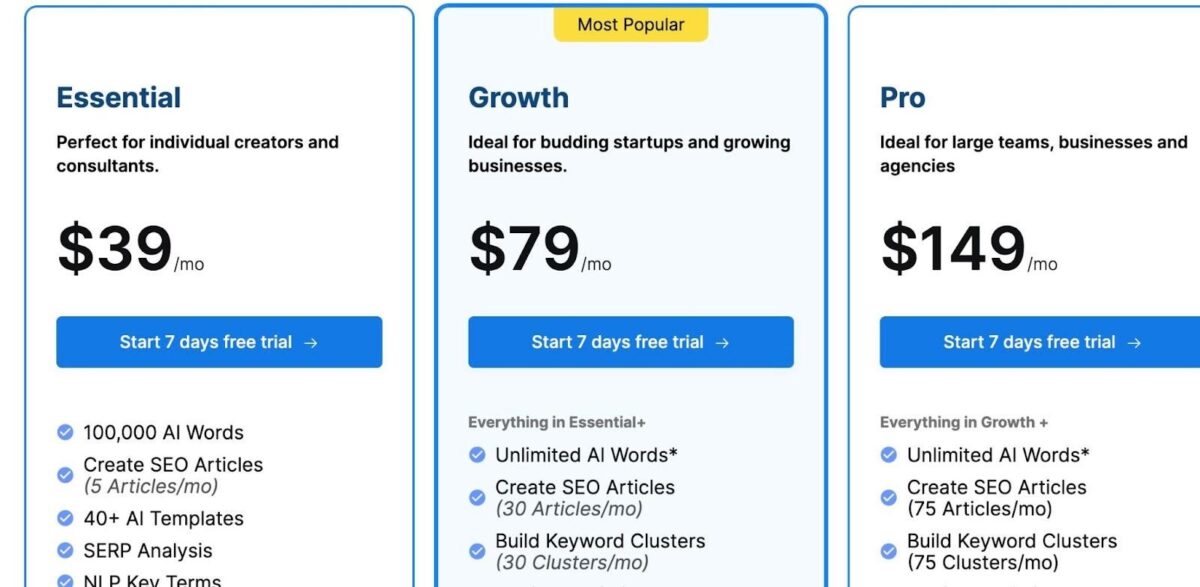 Essential Plan: Tailored for solopreneurs and freelancers, the Essential Plan starts at $39/month and provides access to five SEO reports. Furthermore, it offers a monthly allowance of up to 100,000 AI-generated words, ensuring ample content generation for your needs.
Growth Plan: The Growth Plan, priced at $79/month, is specifically designed to fuel the growth of startups and small businesses. It offers unlimited AI-generated words, 30 SEO reports, and advanced functionalities like Instruct AI to Write and Topic Clusters, empowering you to optimize your content strategy effectively.
Pro Plan: Geared towards established businesses and large teams, the Pro Plan starts at $149/month and delivers top-quality content at scale. In addition to all the features included in the Growth Plan, this option provides a dedicated customer success manager and multi-user support, catering to the requirements of larger teams and ensuring seamless collaboration.
Frase Overview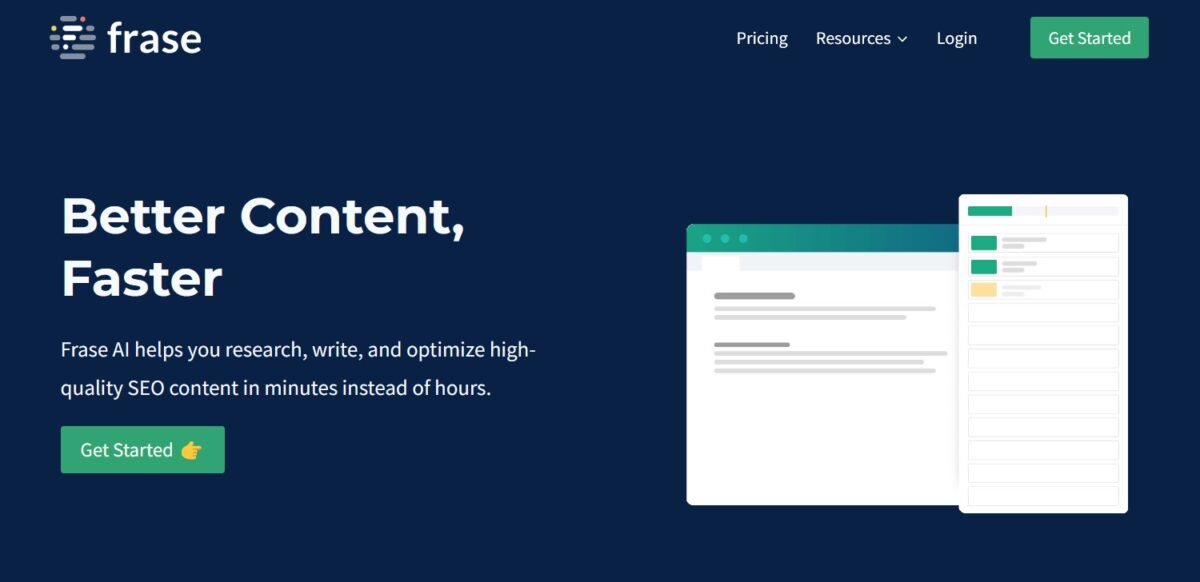 Frase is an advanced content optimization and research tool that harnesses the power of natural language processing and machine learning to aid businesses in crafting search engine-friendly content.
This tool thoroughly examines leading search results associated with a specific query and offers valuable guidance on pertinent topics, questions, and keywords relevant to the subject matter.
With this information, I could develop content that was finely tuned for search engines while delivering significant value to my target audience.
Key Features
Content Brief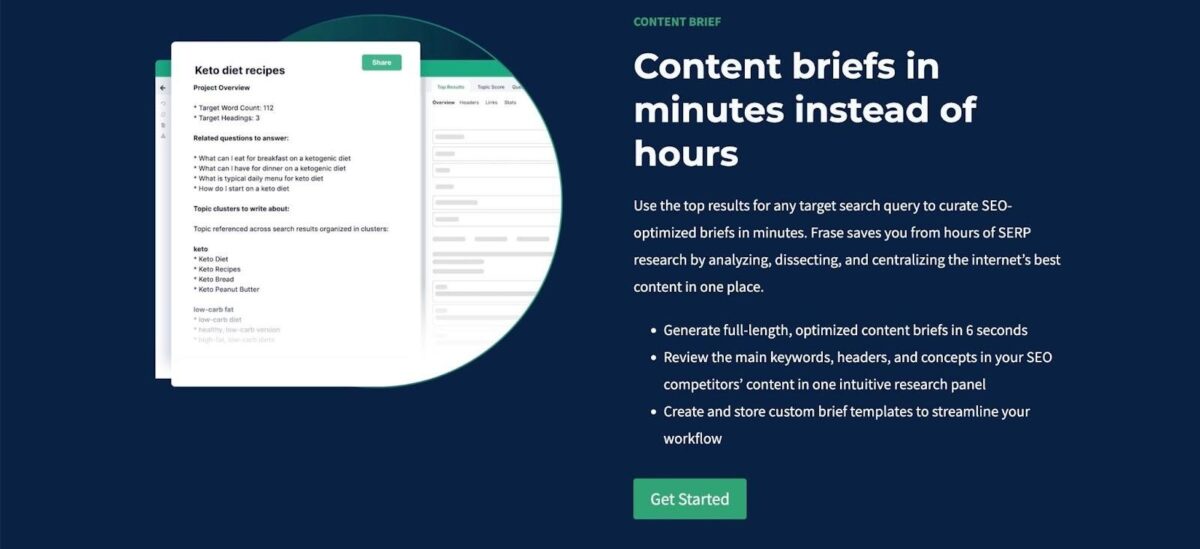 Frase's Content Brief feature empowers users to swiftly generate search engine optimized content by leveraging top search results as a point of reference.
Content Optimizer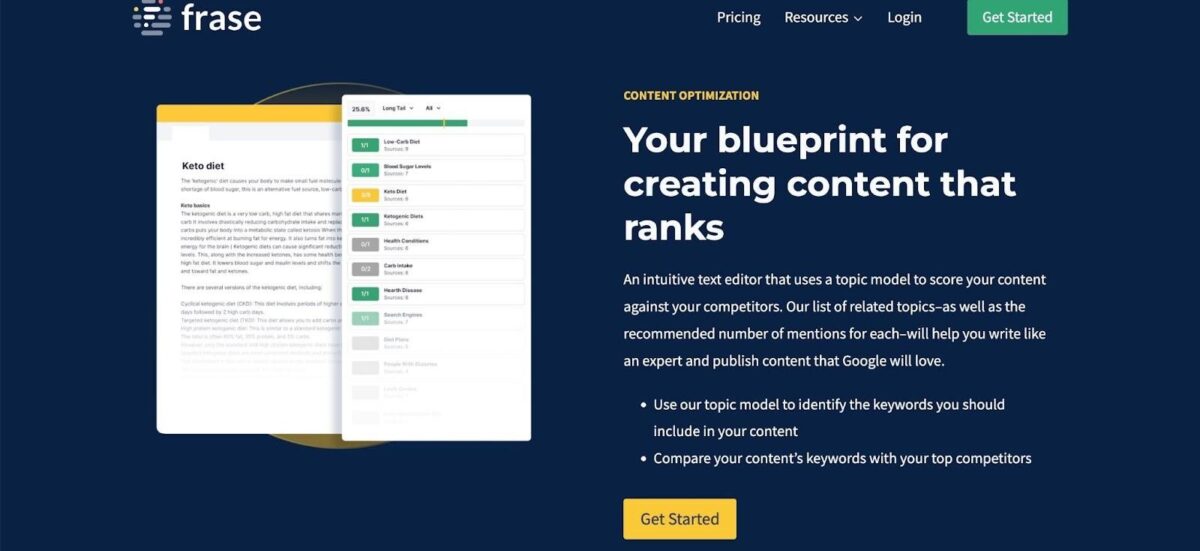 By scrutinizing pertinent keywords and backlink data, Frase's Content Optimization feature offers a strategic framework for crafting content that attains high rankings.
Content Analytics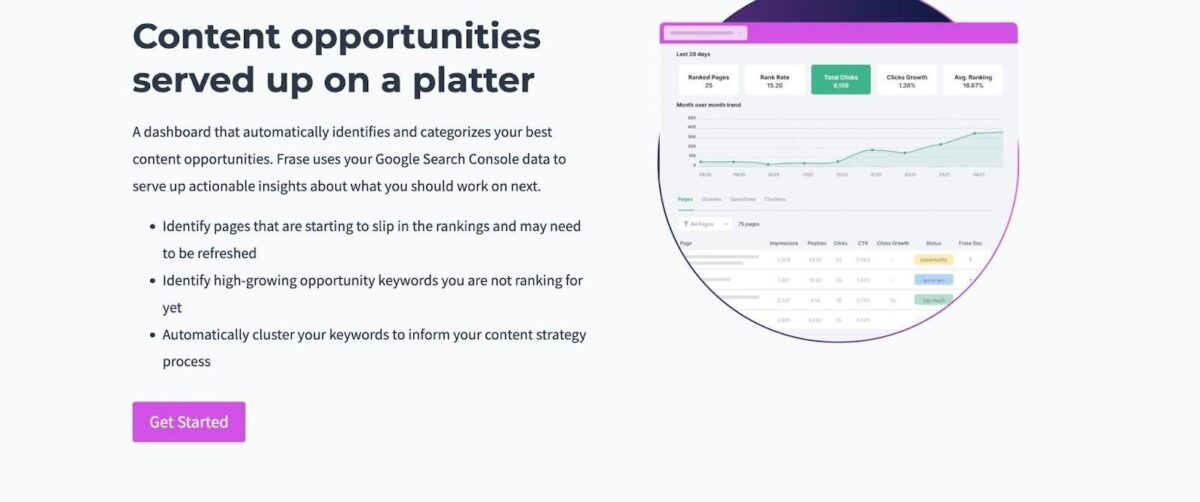 Through this feature, users gain the ability to assess the performance of their content, as it presents a visually engaging dashboard for data visualization.
Content Writing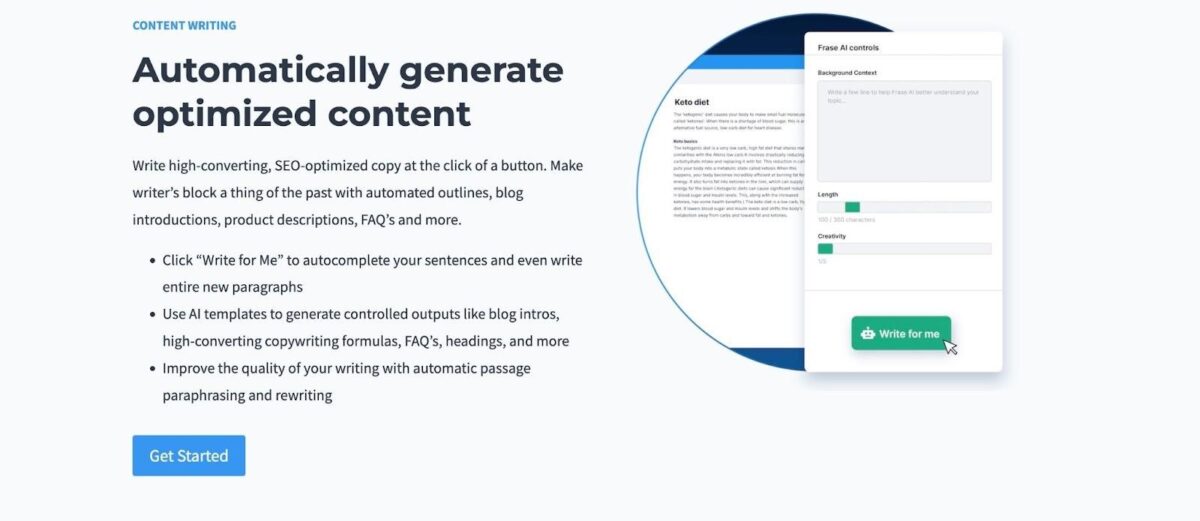 With Frase's writing and editing tool, you can easily generate outlines, blog introductions, product descriptions, and FAQs. By clicking "Write for Me," you can have your sentences completed or even entire paragraphs written for you.
Frase Pros
The integration of Frase with well-known content management systems allows for a smooth workflow, saving valuable time and enhancing overall efficiency.
Advanced analytics provided by Frase assist in monitoring content performance and improving outcomes through optimization.
With outstanding customer support, Frase ensures that users maximize the benefits of their subscriptions.
Frase Pricing

Solo Plan: The Solo Plan is priced at $14.99/month and is suitable for single users or small teams who are new to creating SEO-optimized content. With this plan, you can write and optimize up to 4 articles per month, providing a cost-effective solution for your content needs.
Basic Plan: The Basic Plan, priced at $44.99/month, caters to teams and agencies with multiple users. With this plan, you can write and optimize up to 30 articles per month, offering an expanded capacity to meet the content requirements of your team or agency.
Team Plan: Designed for large teams that require personalized services, the Team Plan is available at $114.99/month. With this plan, you have the freedom to write and optimize an unlimited number of articles per month, providing the flexibility and scalability necessary to support the content demands of your large team.
Scalenut vs Frase: Comparison
Here are the details from my in-depth comparison of these two tools.
Content Optimization
The Content Optimization tool offered by Frase examines your content and conducts real-time comparisons with highly ranked articles. It offers valuable insights on how to enhance various aspects such as meta tags, key terms, and featured snippet content, guaranteeing that your content is finely tuned for optimal visibility.
Likewise, Scalenut's Content Optimizer leverages artificial intelligence to provide instantaneous evaluations of your content's SEO effectiveness. It assesses factors like keyword density, NLP key terms, and other on-page optimizations, offering valuable feedback in real time.
Winner: It's a tie.
Pricing
Both tools offer various pricing plans to their users based on unique requirements. While Scalenut's Essential plan starts at $39/month, Frase provides its Solo plan for $14.99/month.
That said, the latter's basic plan is exceedingly limited. It allows users to only write and edit four articles per month. The offering at this price might be costly for small business owners and freelancers.
Ultimately, it depends on your requirements. Although, Scalenut's plans offer more value for money.
Winner: It's a tie.
AI Writing
Scalenut and Frase's AI Writers recommend headings and outlines based on your chosen keywords. Besides, they offer pertinent information about user intent and related queries to help you address any gaps in your content, ultimately saving you valuable time and effort.
However, I found Scalenut's AI writer super easy to use and more intuitive.
Winner: Scalenut
Factual Statistics
One of the downsides to the AI-powered tools of Frase is that they may not always provide the most accurate and factual results. In comparison, I found Scalenut to be far more competent at generating factually relevant content.
By incorporating impactful numerical data points, you can enhance your message, captivate your readers, and bolster the overall credibility of your content. Scalenut allowed me to incorporate factual statistics into my content with ease.
Winner: Scalenut
Scalenut vs Frase: Which is Better?
Both tools offer valuable features for content optimization, pricing plans, and AI writing. In terms of content optimization, both tools provide real-time evaluations and feedback, ensuring your content is finely tuned for visibility.
While the pricing plans vary, Scalenut offers more value for money. You can opt for Frase if you're looking for a more economical tool with limited content requirements. But if, like me, you want to be able to access most features at a reasonable price, Scalenut should be your choice.
I also found Scalenut's Cruise Mode and Content Optimizer to be easy to use and super intuitive. In addition, the content generated with the help of these tools was more coherent and factually accurate than the one created with Frase.
Overall, Scalenut is a better tool for anyone looking to speed up and enhance their content creation of SEO blogs, case studies, product descriptions, website content, and more.
Sign up for a 7-day free trial and check out the tool for yourself.